Hand the problem over to the professionals and enjoy peace of mind, knowing your business has been fully compliant when it comes to discarded and unwanted waste, spoil and arisings. Being registered waste carriers, we're able to remove and dispose of any surplus refuse from commercial developments, petrol stations, domestic building works and national parks, including hazardous waste. We take a tailored approach for each client because we know no two sites are the same. Our expert teams can conduct a Waste Assessment Criteria test, including chemical analysis, to determine what materials and substances are present.
Waste is usually removed in tipper lorries, grab lorries, skips and roll-on roll-off bins. Earth Haulage have access to licenced waste disposal facilities across the UK that enable us to recycle as much waste as possible to keep landfill use to a minimum. We can provide you with a traceable documented waste stream, helping you stay fully transparent with your eco-conscious stakeholders. When providing cart away services all waste should be given a classification code (also know as an  EWC or LOW Code) and then we can give advise based on the Waste Hierarchy to ensure we are offering the most sustainable solution for your site and for the Earth.
What is the Waste Hierarchy? 
The Waste Hierarchy is a system that ranks waste management options according to what is best for the environment. We use this system to classify and ascertain what we will do with cart away.
How we work within the Waste Hierarchy: 
Prevention:  Priority is given to preventing the need for waste in the first place. We can conduct an assesment of the site materials and advise whether any of them are fit for re-use on site if this has not already been looked at. 
Preparation for reuse:  When waste is created, priority should be given to preparing it for re-use. Depending on the material's properties and provided the material is suitable we will look to put this waste straight in to use in permitted projects such as motorway bunds, hard-landscaping of golf courses or lining of ponds.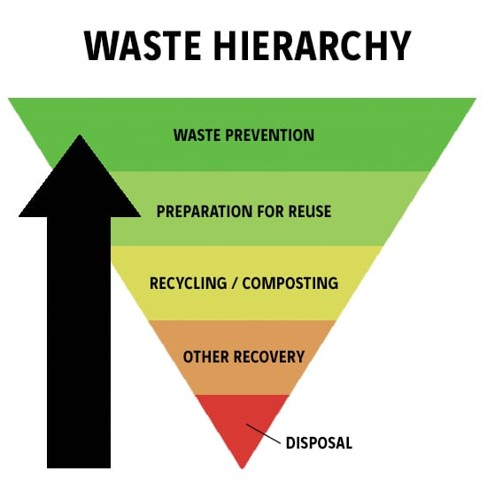 Recycling/composting:
If the material is not fit to be reused directly on another project we take the material back to our recycling yard or a processing facility. Here it will be turned into a recycled product via a process such as screening, washing, crushing or composting depending on its nature. These new products are produced following government guidelines and then tested to ensure compliance before being resupplied.
Other Recovery: Contamination such as petroleum hydrocarbons, heavy metals, petroleum hydrocarbons, radioactive materials and pesticides are often found in waste soil or sediments. Rather than taking this to a landfill, we always look to send contaminated waste to remediation centres where they can be treated via a range of processes involving chemical, biological, structural and thermal techniques. We can even take soils containing fragments of asbestos to licensed picking centres which remove the hazardous material leaving just the inert spoil which can be used for restoration. As a result, asbestos is the only material we send for secure disposal, giving you up to a 99% reduction to landfill by mass. This not only saves you money, but helps save our planet.