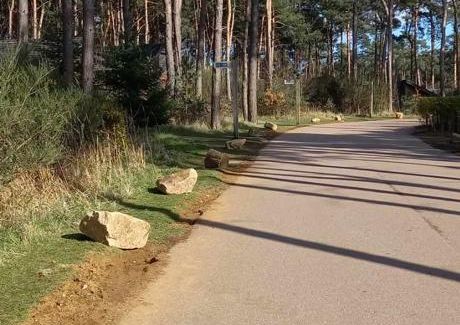 Yorkstone boulders find their home along a winding pathway at an award-winning forest holiday destination, helping to create a natural-style landscape.  
As the old saying goes, 'there is no path to happiness, happiness is the path' – and that certainly rings true for this nice little project. We were delighted to supply decorative Yorkstone boulders to a well-known luxury family holiday park set in the forests of Bedfordshire.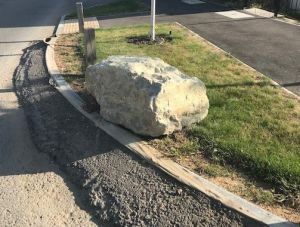 The boulders were used to line a busy entry path, preventing visitors from parking their cars and bikes on the verge. The boulders are large enough to help keep the route clear, but not in a way that overbears the surroundings. With their weathered form and sandy tones, they help to give the pathway a wild, rustic style that perfectly fits in with the holiday park's brand. The client preferred an unobtrusive parking deterrent that would look subtle rather than a more prominent option such as a line of bollards or a steel barrier.
Any experienced landscaper will know that it's notoriously tricky to position boulders in a natural way without them looking out of place. The client ordered the boulders in three different size grades, which helps keep the arrangement looking natural – as if someone simply gathered them from nearby rather than being delivered from another part of the country altogether.
Looking after our clients while offering sustainable options
Our approach combines a sustainable approach with competitive prices, quick deliveries and outstanding customer service. In keeping with our environmental values, Earth Haulage delivers high-quality, locally accessible products to our customers, and this project was no different.
Our highly skilled team have a broad, comprehensive experience of the industry, so when it comes to sourcing decorative boulders, they know precisely how to locate materials closest to the client and keep mileage to a minimum. We encourage all our clients to explore landscaping products that can be sourced locally to their site as there will always be the most sustainable options. With Yorkstone being such a premium material, choosing this British stone over an imported option wasn't difficult.